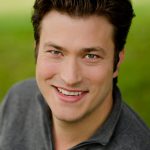 Baritone opera singer Maciek is a regular baritone opera singer with the English Touring Opera. He completed the postgraduate singing course at the Guildhall School of Music and Drama and previously was a choral scholar at Southwalk Cathedral. Maciek moved to Oxford as a Lay Clerk of Christ Church Cathedral Choir for one year then carried on to be a Gentleman of H.M.Chapel Royal before continuing his career as a baritone opera singer for many leading opera companies throughout the UK.
Solo appearances have included performances of J.S. Bach's Magnificat; the Requiems of Brahms, Faure, and Mozart; Haydn's Creation; Handel's Messiah, Dettingen Te Deum; Pilate in the St John Passion by Bach; Stainer's Crucifixion; Purcell's Come ye Sons of Art; Vaughan Williams' Five Mystical Songs; Orff's Carmina Burana at the Sheldonian Theatre, Oxford, scenes from Tchaikovsky, Eugene Onegin and Vaughan Williams' Five Mystical Songs with Welwyn Garden City Orchestra and Chorus and Bach's B Minor Mass at St John's, Smith Square with the London Mozart Players.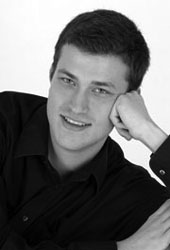 On stage he has performed as a baritone opera singer in the role of Zoroastro in Handel's Orlando, and Luka in The Bear by Walton, both for "New Chamber Opera". For the same company also the title role in The Marriage of Figaro for masterclasses given by Sir Thomas Allen, and that of Don Alfonso in Cosi Fan Tutte for Graham Vick. For University College Opera he has played the roles of Orlick in Mazeppa by Tchaikovsky; Rocco in The Jewels of the Madonna by Wolf-Ferrari; 1st Man in theBritish Premiere of Aulis Sallinen's Kullervo; and in March 2003 the role of Roger in Ciboulette by Reynaldo Hahn, at the Bloomsbury Theatre, London.
In July 2002 Maciek was invited by Revelli to appear in the inaugural Oxford Lieder Festival, performing Winterreise at the Holywell Music Room, with further invitations to appear in the 2003 Festival, when he performed songs from Schumann's Myrten and Franck Martin's Six Monologues from Jedermann with pianist Sholto Kynoch at the Holywell Music Room, and again in 2004. In July 2005 Maciek was the winner of the 2005 Thames Valley Young Musicians' Platform, part of the Oxfordshire youth music trust. He has recently completed a successful season with the English Touring Opera's 2009 production of Mozart's Magic Flute.
"Hi Sara – Just wanted to let you know that I was very happy with Maciek's performance last night will gladly recommend you when the opportunity arises. Best wishes,"
– Andrea (Solo Baritone – Birthday Party, London)