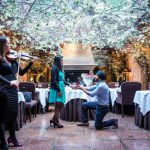 As well as maintaining active professional lives performing opera, musical theatre, and events in and around the London area, every Hartley Voices wedding soloist enjoys performing for wedding ceremonies and personal events regularly throughout the year.  A wedding soloist will either perform alone or provide soaring, powerful vocals to lead the choir and congregation.
Click here to find details about some of our excellent professional soloists
Audio Samples
Benediet die Sel'ge Mutter
Take a Pair of Sparkling Eyes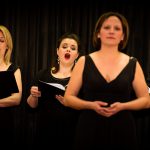 Our wedding soloist will work with you to ensure that you are happy with the songs and format of music for your special event. With a wide repertoire of traditional and non-religious song, we can cater to your Religious or Civil ceremony. If requested we can also provide suggestions based on your format, or perform your requests.
Where accompaniment is concerned, every Hartley Voices wedding soloist is well experienced at performing with pianists, organists, string quartets, choir, a cappella, and more. We are happy to work with musicians whom you've arranged independently, or to organise accompaniment per your request. If you are unsure of what you'd like, we are happy to talk you through the options based on your venue.
Dear Sara, Thank you ever so much for all your efforts and those of your fellow vocalists and musicians. The music was so very beautiful.The choir also added so much to the hymns and to the general atmosphere. Please pass on our thanks to everyone concerned. With kind regards, Emma p.s. your voice in particular was spectacularly beautiful. My Godfather is a particular fan of sopranos and he said that he thought your voice had a rare and special quality. I could have listened to it forever. Please can you let me know if there is some sort of email list that I can join where I would be notified of your performances or recordings? Thank you so much!
Thank you for performing on our wedding day. We had lots of lovely compliments about your singing and indeed we enjoyed it ourselves, very much.  It certainly gave the hotel a lovely, warm and friendly atmosphere. Thank you for being part of our day. We had the most amazing time.
Hi Catherine, Thank-you again for singing at the wedding. Everyone is still talking about it. You stole the show!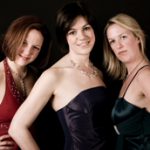 Hi Sara, Just want to say a big thank you to you for performing at our wedding, it meant a lot to my mom and aunt that you sang ave maria, so gracefully I must say! and actually brought my aunt to tears (tears of joy) I would definitely recommend you to anyone for a singer so thank you. Many Thanks
Song Suggestions
Popular Church Repertoire

Ave Maria (Schubert, Bach/Gounod, Caccini & Verdi versions)

Alleluja, Mozart

Amazing Grace

Count your Blessings

Exultate Jubilate

Eternal Source of Light Divine

Laudate Dominum

The Lord's Prayer

Jesu, Joy of Man's Desiring

Panis Angelicus, Franck

Pie Jesu, Faure

Pie Jesu, Webber

Il Re Pastore

Popular Civil Ceremony Repertoire
(Also appropriate for Church Services)
Hallelujah
Il mio cuore va [My heart will go on]
I will always love you
Nella Fantasia
No one like you
Sancte Deus (Nimrod)
Solveig's Song
Time to say goodbye (Con te partiro)
Where 'er You Walk
You raise me up
Young and beautiful
Vilja

Anthems
God Save the Queen
Jerusalem
Land of hope and Glory
Rule Britania
Danny boy
Come again, sweet love doth now invite
(and other madrigals)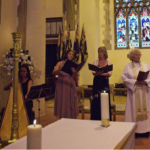 Italian Arias

O mio babbino caro

Deh Vieni non Tardar

La Canzone di Doretta

Lascia ch'io pianga

Nessun Dorma

O sole mio

Zeffiretti Lusinghieri

Welsh Traditional Songs
Calon Lan
David of the White Rock
Tra bo dau
Bugeilio'r Gwenith Gwyn
We'll Keep a Welcome

French Song
L'Heure exquise, Hahn
Si mes vers avaient des ailes, Hahn
Nuit d'etoile, Debussy

German Lieder
Widmung, Schumann
Du bist Die Ruh, Schubert
Ich liebe dich (I love you), Greig
Du Ring an Meinem Finger, Schumann
Bist du bei Mir (If you're with me), Bach
Zueignung (Dedication), R. Strauss
Auch kleine Dinge (Even little things), Wolf

ALL STANDARD HYMNS
EVERY CHRISTMAS SONG IMAGINABLE

(Many Other Options Available On Request)



Let Music be the Food of Love!
You might not prioritise live music for the ceremony at the top of your wedding checklist but it is often said to be one of the most memorable aspects of the wedding… A professional wedding soloist performing a song dedication from the groom to the bride between readings, a performance of voice and harp to entertain your guests during the signing of the register, or Ave Maria as the bride enters can add a stunning presence and unique touch to your wedding.  Perhaps you would like to enter to a live performance of the gorgeous melody of 'Eternal Source of Light Divine' as Meghan and Harry did at their breathtaking Royal wedding??  Unforgettable.
Soprano soloist and founder of Hartley Voices, Sara Hartley Llewellyn offers this advice: "Music can make a stunning impact and set the mood for your wedding. There are many choices as to what mood you can create, and we are here to help guide you through this process and the many options to help you create a beautiful and unique ceremony. A soprano accompanied by a harp is a popular and beautiful choice but there are many other options from performance with your own church organist, accompanied by recorded orchestral backing, with choir or string quartet just to name a ew.  A tenor accompanied by a harp can also be a less common twist and create a memorable talking point. Then, if you have booked a harpist or one of our professional pianists or organists, you can take the most advantage of their time in value for your money as they can play as your guests arrive, accompanying your hymns and for any other instrumental music you'd like during the ceremony.  They can even continue for another set after a short break following the ceremony to provide a gorgeous ambiance of background music during your drinks reception at very little additional cost.
We so often are approached by brides and grooms in months and years after their wedding saying how vividly the musical performance still remains in their memories when so many of the other details have faded, and the cost involved, so relatively minor compared to the other expenses of the wedding, seems insignificant for it's priceless value."
When you book performers you should ensure that you are happy with the songs and format of music for your wedding – it is important to consider what music is appropriate for your venue. If you have a civil venue your registrar will require that you choose music that doesn't have religious content. Your performers will be happy to guide you through the many options for civil or church ceremonies, and can also advise on suitability of any special musical requests you've made. You'll then need to have your choices approved by your registrar, as each does vary slightly as to what they will allow.
Hartley Voices provides a wide range of music choices for church and civil ceremonies. In fact we've now compiled a great repertoire of options for civil ceremonies. "Nella Fantasia" a beautiful and familiar tune based on the theme "Gabriel's Oboe" is a beautiful piece popular amongst brides to enter to. Sancte Deus based on the popular tune from Nimrod or "No One Like You", made popular by Sarah Brightman some years ago, is a popular choice for civil ceremonies for those who would like something a little less well known, says Sara. The lyricist took inspiration from the film Powder, with its themes of hope and beauty, making it a perfect wedding song…
In your eyes are my secrets that I've never shown you
In my heart I feel I've always known you
In your arms there's a comfort that I never knew
You're what I've been waiting for, there's no one like you.
Sure as the sunrise, pure as a prayer
You fashioned hope right out of thin air
Ev'ry dream I abandoned, seems it could come true
I believe in miracles, there's no one like you.
Innocent as a newborn in a world so fright'ning
It's as if my world's been struck by lightning
Ev'ry dream I abandoned, seems it could come true
I believe in miracles, there's no one like you.
Ave Maria is still a very popular choice for traditional church ceremonies but there are also many other options.  Please do see our repertoire list above for some suggestions, but do ask us if you have something in mind.  We're happy to help you choose the perfect music just for you!
Uniquely, Hartley Voices is a collective of singers and performers, rather than just an agency representing performers, with many of it's performers based in London as well as singers and musicians performing throughout the UK. "When you call and speak to us, you are not working with an agency on behalf of the performers, but to the performers themselves. In addition to having the benefit of speaking directly with those who have the most first hand experience as to what works best and how we can affect your ceremony with that unique touch."
Every Hartley Voices wedding soloist is highly professional with years of training, though much emphasis is given on promoting and providing work for the many upcoming talents kick-starting their performing and stage careers.  Please do feel free to find out more about each of us here!
For those of you based in the Midlands and looking for a fantastic tenor wedding soloist, one of our favourite Midlands based tenors, Russell, has now been performing with Hartley Voices for well over over a decade and calls Kiddiminster just outside of Birmingham his home. He performs roles with all of the popular operas and as well as being a wedding soloist frequently performs a programme of 'Opera hits' with us. The number of times he's thrilled audiences with is rendition of Nessun Dorma is now too many to count!
He has been involved in the arts all his life, stating at the tender age of eight in a school production of Yo-ho-ho. As a classical soloist, he has performed the tenor roles in Handel's Messiah, Mozart Coronation Mass, and Haydn's Creation. Just before joining Hartley Voices, Russell completed his undergraduate and postgraduate studies at the Guildhall School of Music and Drama to gain his BMus (Hons), and MMus studying voice under the famed Mr Ian Kennedy. He has a keen interest in musical theatre and for the Savoy operas of Gilbert and Sullivan, roles to date include Curly (Oklahoma), Nicely-Nicely (Guys and Dolls), Kipps (Half a Sixpence), M.C (Cabaret) and his favourite Professor Higgins in My Fair Lady. His Savoy opera roles include, Marco (Gondoliers) the defendant (Trial by Jury) and Box (Cox and Box).