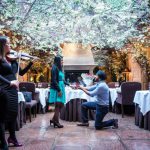 As well as maintaining active professional lives performing opera, musical theatre, and events in and around the London area, Hartley Voices wedding soloists enjoy performing for ceremonies and more personal events regularly throughout the year.
Audio Samples
Benediet die Sel'ge Mutter
Take a Pair of Sparkling Eyes
We will work with you to ensure that you are happy with the songs and format of music for your special event. With a wide repertoire of traditional and non-religious song, we can cater to your Religious or Civil ceremony. If requested we can also provide suggestions based on your format, or perform your requests.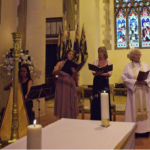 Where accompaniment is concerned, our singers are well experienced at performing with pianists, organists, string quartets, choir, a cappella, and more. We are happy to work with musicians whom you've arranged independently, or to organise accompaniment per your request. If you are unsure of what you'd like, we are happy to talk you through the options based on your venue.

Dear Sara, Thank you ever so much for all your efforts and those of your fellow vocalists and musicians. The music was so very beautiful. The choir also added so much to the hymns and to the general atmosphere. Please pass on our thanks to everyone concerned. With kind regards, Emma p.s. your voice in particular was spectacularly beautiful. My Godfather is a particular fan of sopranos and he said that he thought your voice had a rare and special quality. I could have listened to it forever. Please can you let me know if there is some sort of email list that I can join where I would be notified of your performances or recordings? Thank you so much!
Thank you for performing on our wedding day. We had lots of lovely compliments about your singing and indeed we enjoyed it ourselves, very much.  It certainly gave the hotel a lovely, warm and friendly atmosphere. Thank you for being part of our day. We had the most amazing time.
Wedding Ceremony Solo Soprano – Schubert's Ave Maria
Hi Catherine, Thank-you again for singing at the wedding. Everyone is still talking about it. You stole the show!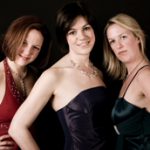 Hi Sara, Just want to say a big thank you to you for performing at our wedding, it meant a lot to my mom and aunt that you sang ave maria, so gracefully I must say! and actually brought my aunt to tears (tears of joy) I would definitely recommend you to anyone for a singer so thank you. Many Thanks