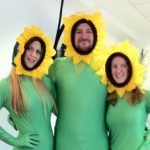 If you are looking to surprise someone special, a Flash Mob performance by some of our fabulous performers will create an unforgettable, priceless memory.
What is a Flash Mob?
Flash Mob is a term which is fast becoming a very popular format for live performance in unusual settings.  It is quite simply a group of people that gather suddenly in a public place, usually professional performers, perform an unusual act for a short period of time and then disperse. A Flash Mob performance is also known as a Smart Mob, depending on how they have been organised and who by. It is an amazing way to light up an otherwise ordinary day, an ordinary location with something extraordinary.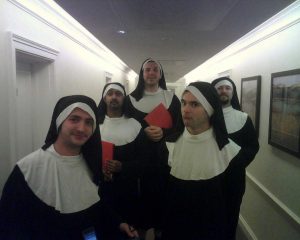 We will blend into your chosen location, remaining unnoticed until we burst into song, surprising and inspiring everyone around!
Whatever the occasion we can find a way to fit in, disguised as members of the general public, party guests, security guards, firemen, hotel staff, waiters, chefs, nuns or sunflowers (we have done it!). We will appear at your marriage proposal, wedding, birthday party, dinner party, hen party, festival, marketing event or in your workplace!
If you have a special request or want personalised lyrics we will write special arrangements to suit your event which our singers are happy to perform for you.
Some of our ensembles who are exceptionally well suited to this style of performance include (but are not limited to):
Barbershop quartets – Our amazing four part a cappella male ensembles work themselves seamlessly into any event or location, helping to increase the element of surprise! click here to read more
Singing Waiters – Our singing waiters perform incredible operatic and musical theatre songs in beautiful four part a cappella harmonies or with recorded orchestral backing accompaniment! click here to read more
Choir – Our choir can perform in any number from 4 up to 40 singers. This fantastic vocal ensemble can't help but draw the attention of those in the area. Our professional choral singers have performed in many different locations from office lobbies to five star hotels, events stadiums to train carriages! click here to read more