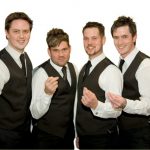 The Wedding Crashers are a very cheeky group of boys that will arrive at your wedding (or any party really for that matter!) and after a due amount of intrigue and entertainment break out into fantastic four part harmony to serenade your guests with their performance of Doo-Wop, classic Rock Roll, traditional Barbershop and BeBop, also incorporating Gospel, Jazz and Soul.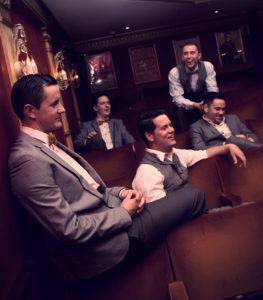 "If you'd prefer a bit less drama, of course, they would be willing to concede to an agreed brief to be invited guests (with plausible story), hotel or restaurant staff, security etc etc, but once the drama culminates and they launch into their performance, these young men will not fail to melt the hearts of even the most discerning bridesmaid and win the consent of her father!"

Audio Samples
In the Still of the Night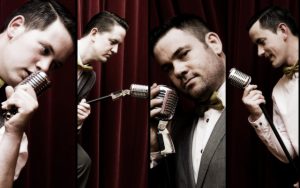 Until the moment is right only you will know that they are not in fact the opportunistic party crashers that stumbled into your beautiful venue in hopes of scoring some drinks and meeting the bridesmaids!…
"You looked great, You sounded great. you delivered on every level. When are you available to come back and perform here again?!" (De Vere Hotels)
These four are no ordinary wedding crashers, in fact with their skill and intuitive musical talent in performing their a cappella four part arrangements, they cover classic a cappella songs such as 'Life Could be a Dream' and 'Goodnight Sweetheart' amongst others but also pride themselves in taking some very contemporary songs and making unique covers of them in these classic styles.
They hail from the port town of Lowestoft on the East Coast – birthplace to Benjamin Britten and, indeed, can boast a relation to the famous composer (cousin twice removed – and boy do they boast!) . The quartet's innovative approach and original style has brought them to the attention of BBC Radio 2 who invited them to make a live appearance resulting in recording a personal jingle for the station. When these boys appear at your party, you know you're in for a great time!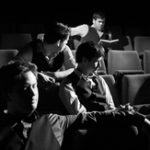 "Hi Sara, A quick note to say how impressed I was with the performance of the 4 guys at my nephew's wedding. They stole the show :-)))) The guys were professional, funny, relevant and balanced the whole show wonderfully. I finally decided to leave the decisions and logistics entirely in their hands in terms of performance, and not to either join in or interfere – wise choice :-)"
"I am delighted, basically, and would not hesitate to recommend them to anyone, anywhere. THANK YOU THANK YOU THANK YOU for all your support, As soon as the photos are sorted out, I'll send you copies of the best ones. The whole family are still talking about them, All the best, Howard"
Sample Repertoire List:
Doo-Wop Upbeat:
Blue Moon
Earth Angel
Get a Job
In the Country
Life Could be a Dream
Living Doll
Money Honey
Remember Then
Runaround Sue
Sixty Minute Man
Teenager in Love
Why Do Fools Fall In Love
Doo-Wop Ballads:
Banana Boat Song
Goodnight Sweetheart
If I Didn't Care
In the Still of the Night
Only You
Sea of Love
There's a Moon Out Tonight
To the Aisle
When You Dance
2010+:
Shake It Off
Cheerleader
All About That Bass
Bang Bang
Happy
Marry You
Just the Way You Are
Get Lucky
What Makes You Beautiful
Royals
I Need a Dollar
Pack Up
Better Together
Love is Easy
2000 – 2010:
Afternoon Delight
All the Single Ladies
All You Need is Love
Dog Days Are Over
Don't Stop Believing
I Just Haven't Met You Yet
Pencil Full of Lead
Rehab
She's So Lovely
You Give Me Something
You Got the Love
1990's:
It Must Be Love
Let's Get Married
No Diggity
Would I Lie To You
1980's:
Caravan of Love
Don't Worry Be Happy
I Made it Through the Rain
Only You
Sign Your Name
Sledgehammer
Sweet Child of Mine
The Longest Time
There She Goes
The Way You Make Me Feel
True Colours
You Can Call Me Al
1970's:
Afternoon Delight
Isn't She Lovely
It Must Be Love
The Wonder of You
1960's:
All You Need is Love
Bring Me Sunshine
Born to be Wild
Can't Buy Me Love
Can't Take My Eyes Off You
Chapel of Love
Congratulations
Here Comes the Sun
Hit the Road, Jack
Hound Dog
Oh Happy Day
What a Wonderful World