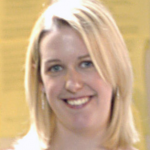 Catherine has been working with Hartley Voices for well over a decade now and is no stranger to performing in any venue, for any event, with any blend of voices, singing a vast variety of repertoire.
Catherine graduated with her BAMus Hons from the University of Nottingham in 2003 and completed her studies at Guildhall School of Music and Drama. She has successfully led over a hundred ensembles through various events including weddings, birthdays, corporate parties, vocal recordings and film premieres. Client feedback has alway been overwhelmingly positive with countless recommendations leading to new future work and repeat bookings.
As an active solo performer, both as a classical singer and with musical theatre she has performed on the Palladium stage, at The Royal Albert Hall, The Palace Theatre and Westminster Abbey. Prior to her work with Hartley Voices she has been a member of the New London Chamber Choir and been in performances including Cinderella in Steven Sondheim's Into the Woods, soloist in Bach's Magnificat in D major and Schubert's Magnificat in C major with the East of England Singers and the New Classical Players at Beeston Parish Church in Nottingham, and in ensemble with the College Chamber Choir, Girl's Choir, and John Leggott Mixed Choir whilst at John Leggott College in Scunthorpe.
Catherine's extensive experience in leading ensembles for Hartley Voices means she knows exactly what creates the perfect setting and mood for any event you are holding. Her relaxed, yet professional manner ensures client peace of mind and her ability to organise the various singing groups we have working for us, guarantees a smooth, enjoyable and fun experience for all involved.