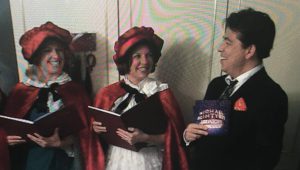 Hi Sara
I just wanted to say a huge thank you from the McIntyre Big Show Team for being part of the bonkers Midnight Gameshow!
My producer has told me how fantastic you all were, and apologies for the torrential rain, I hope your costumes are okay.
Great to work with you, and hope to again in the future.
Best Wishes and a Merry Christmas,
Mel
Hartley Voices were featured on Michael's show – Christmas Eve at 8:30pm BBC1 2017.
BBC session performers  are the experienced and impressive live performance acts for filming from a cappella close harmony quartets to opera to musical theatre and high energy popular music that will help create the ultimate professional BBC programs.