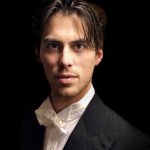 Matthew is a talented young bass-baritone who completed a Master's at the RNCM where he was the recipient of The Riga Heesom Award and supported by the Laurison School Trust. His debut in the RNCM's Il Ritorno d'Ulisse in Patria lead to masterclasses with Sir John Tomlinson and John Shirley Quirk and the RNCM's A Midsummer Night's Dream as "Theseus".
Further opera includes A Midsummer Night's Dream – "Snug" and Boheme – "Colline" with Opera on Location, The Magic Flute – "Second Priest" cover "Sarastro" with Hampstead Garden Opera.
Matthew has also performed for Grange Park Opera for the last 6 years in the cho-rus and small roles and has been a long standing member of Hartley Voices. In 2018 he performed with Guildford Opera as Tom in their production of Ballo in Maschera and in 2019 has performed in Bury Court's commissioned opera, Auraura, Opera Holloway's La Boheme as "Colline", Guild-ford Opera's Nabucco as "Zechariah" and "Nourabad" in the Pearl Fishers with Bookham Choral Society. He is looking forward to returning to Grange Park Opera for the 2020 spring season.