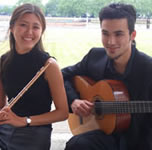 We have a fabulous team of professional supporting musicians ready to accompany any style performance, whatever the theme and mood of your event. Although our a cappella vocalists can bring a stunning touch to your event, often you will want to hear them supported by instrumentalists who can accentuate their performance.
We can help you to find the perfect compliment for your musical entertainment, whether you would like a pianist to accompany a vocal serenade, a harpist to bring that perfect unique touch to your wedding, an organist to thrill your church and accompany your choir, a string quartet to trade enchanting melodies with your soprano, a full orchestra for that superb gala event, or even something more unique, we can bring it to you at the most competitive rate possible.
Please feel free to contact us to discuss the options, and we are happy to help.