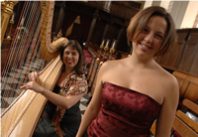 A harpist can bring a lovely atmosphere to your event and is an original and highly complimentary option to accompany the voice. The harp is a lovely option for weddings, dinners and upscale functions.
In addition to accompanying our vocalists, a harpist can play solo instrumental music to complete your ceremony and background music for your drinks reception and dinner, so can not only create a lovely ambiance, but be cost effective as well.
We can help you to find the perfect compliment for your musical entertainment, whether you would like a pianist to accompany a vocal serenade, a harpist to bring that perfect unique touch to your wedding, an organist to thrill your church and accompany your choir, a string quartet to trade enchanting melodies with your soprano, a full orchestra for that superb gala event, or even something more unique, we can bring it to you at the most competitive rate possible.
Please feel free to contact us to discuss the options, and we are happy to help.