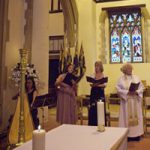 Hartley Voices performers are honoured to perform for many memorial services and funerals on request. Though these events are often sad and difficult for the family and friends, we find it greatly rewarding to have the opportunity to bring a beauty and warmth to these services for the families in a way that those that have passed away would have wanted.
Planning a memorial for your loved ones is never easy and we strive to make the experience of booking our funeral singers as easy to arrange, genuine and sensitive as possible. We will work with you to ensure that you are happy with the songs and format of music for your memorial service or funeral. With a wide repertoire of traditional and non-religious song, we can cater to your Religious or Civil service. If requested we can also provide suggestions based on any details you have about the music that your loved one enjoyed and would have wanted for their memorial.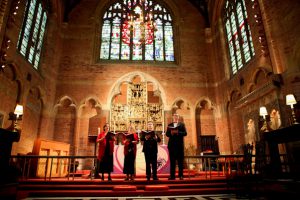 Where accompaniment is concerned, our funeral singers are well experienced at performing with pianists, organists, string quartets, choir, a cappella, and more. We are happy to work with musicians whom you've arranged independently, or to organise accompaniment per your request. If you are unsure of what you'd like to have performed, we are happy to talk you through the options based on what works best for you.
"Hi Sara, I just wanted to say a HUGE thank you for joining us yesterday. Your beautiful performance bought a welcomed light to an otherwise dark day. Many thanks again" Gaynor, Ged and Andrew (Solo Soprano, Leicester), August 2012
"Beautiful, Brilliant, Lovely, Wonderful, Awesome, just a few of the words used to describe your and Luisa's performance on Thursday. Mine, Perfect. It was exactly as I would have wished it to be. Not too happy, not too sad, but performed with feeling, love and thought. Even the Vicar complimented us on a Perfect Befitting Service for a well loved Mum. I understand the congregation was listening to Luisa playing whilst waiting our arrival and thoroughly enjoyed it even if it was such a sad occasion. The Vicar said it filled the church beautifully. It is a beautiful building. Thank you so very much – the only thing missing was our Mum. If only we had thought about organising something like this for one of her Birthdays it would have been even more perfect – she would have loved it. Please convey our sincere thanks to Luisa and once again many many thanks to you. May we wish you both and your families every happiness in 2011. Kindest regards," – Anne and Family (Soprano & Harp Duo-Funeral Service, Faversham, Kent)
"Dear Sara, I just wanted to say thank you for your lovely singing. Both you and Catherine did a great job and I am sure you recognised the warm appreciation of the full gathering. Again, many thanks; we were very lucky to have you there. Best regards, Andrew" – (Soprano Duo with String Quartet-Memorial service, The Orangery, Kensington Palace, London)