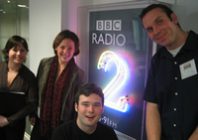 Hartley Voices have been establishing a growing reputation for professionalism and quality performance in TV and radio or other media advertising as well as many bespoke projects for the PR industry. See our Audio Samples to hear our Performance on the Chris Evans Breakfast Show on Radio 2…

"Hi Sara, Just to say a huge thanks for the guys you sent yesterday, we had a wonderful time in the studio. Really hope to work with you again, my client was thrilled and I very much appreciate your help. Best regards – Pam (Radio Advert-London, for Arriva)"
"Cheers for making the idea come to life!"  – Wayne, Global Radio UK Ltd.
Audio Samples
Live on Chris Evans Radio 2 Show
Arriva Buses Christmas Campaign
"Well – you were right – the boys did a great job. Our team was exceptionally happy and impressed with their efforts. Warner Bros has now in fact been passed and recommended the song to Tim Burton, the movie director… so if nothing else, the boys can at least feel pleased that their wonderful tones will be heard by a Hollywood director. The boys did a fantastic job and we have certainly offered a lead idea. Thank you very much for your help in organising this." – Alastair (Movie Promo Recording-London)
Our professional experience and open approach to the industry have allowed us to gain valuable experience and insight into this facet of the performance craft.
"I just wanted to drop you an email to say how fantastic the guys from the barbershop were on Monday. They sounded absolutely fantastic and helped us to get a number of the broadcast media interested while were stood outside the England cricket team's hotel, even being filmed for BBC News 24 and ITN! They were enthusiastic about getting involved as much as possible in what we were doing and even got stuck in to speaking to the public and posing for some great pictures with the photographer. Many thanks" – Gemma (AKA Barbershop-PR Campaign- Central London)