Bringing festive cheer and helping you create a warm and festive atmosphere is what we are best at!  While we can't do this for you in person this year, we are so very pleased that we can now offer this to you streaming live and through your own personalised recorded greetings.
We've kitted out our own studio, packed it full of festive fun and Covid safety measures to allow us to work together to provide the perfect festive atmosphere for your festive celebrations! We always look forward to the season when we can bring a fresh round of "Joy to the World" and a festive atmosphere "Decking the Halls", and "Wishing you a Merry Christmas" and this year is no different!
We are happy to take your spontaneous requests in the moment or sing from a pre-arranged set list.  We sing from a huge collection of fun, festive songs and all of the best arrangements of the traditional carols.
We know that no two events are alike and enjoy adapting to fit yours perfectly! Some of the set up we've put in place in order to assure the best possible live-stream performances and essential precautions we are taking in our studio in order to work responsibly and do our part to protect our global community from the spread of Covid-19 include:

We have put in place high quality professional microphones and camera to capture our performance for you
We are carefully organising our studio to provide spacing and physical barriers between performers to maximise our ability to give you a beautiful performance with social distancing measures that exceed recommendations
We have also put silent air filtration and ventilation in place to give further protection without distracting from the performance
We have ensured a reliable ethernet internet connection for the sound input via our mixer and managed via sophisticated and universally trusted OBS Open Broadcaster Software to easily integrate our performances into your Zoom, Youtube, Microsoft Teams or any other streaming or meeting hosting platform you choose.
We will work with you or your technical team to make sure the connection is sound and we are able to integrate perfectly to your virtual party!
Our 2020 fee structure means that if we're unable to go ahead with the performance because of Covid-19 restrictions all fees paid will be refunded
Audio Samples
Live on Chris Evans Radio 2 Show
We Wish You a Merry Christmas
Hark The Herald Angels Sing
Ding Dong Merrily on High
Rudolph The Red Nose Reindeer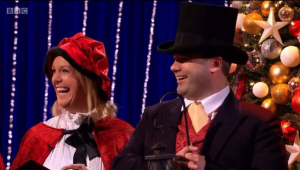 Our fabulous singers don't just come out for Christmas, we are seasoned year round professionals graduated from the top music schools including the Guildhall, Royal Academy, Royal College of Music, Trinity, and esteemed music colleges abroad.  We just love Christmas too!  Our year round commitment and passion for giving the best performances whatever the circumstances means we have the experience and professionalism to give you the best festive performance virtually as well.
We have so many festive themes to choose from and dress codes to suit!  Some of the most popular include the classic festive jumpers or our gorgeous traditional Dickensian Carol Singers costumes.  We also offer formalwear for your black tie events, smart black overcoats with colourful hats and scarves to imitate outdoor performances, or our striking 'Ice' theme with flowing blue dresses for the ladies and smart and icy festive waistcoats for the men.
It's not just our costume that changes to fit your theme of course, because it's the beautiful singing that we are of course known for.  Our wide repertoire spans all of the traditional classic carols that will accentuate your Victorian themed event so well, but we also have a wide and impressive range of fun modern Christmas music so if you would like us to offer only modern festive cheer, we will enjoy doing just that for you.
Click here for our sample repertoire list
Now is The Perfect Time To Hire A Vocal Quartet For This Year's Virtual Event! Here's Why…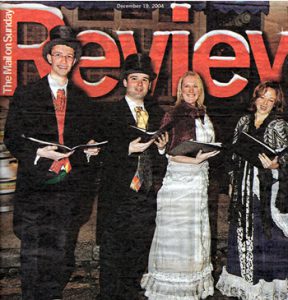 We make it easy for our clients to create a light and spirited atmosphere and a memorable occasion that your guests will talk about long after.
"Hi Sara, I just wanted to email to say a huge thanks to Gina and the guys for Saturday evening – they were amazing. They added a real Christmas feel to our party. We were extremely happy with their performance on the evening and will definitely be in touch with any future events that we hold! Kind Regards, Amy – Corporate Party, Knebworth House
"I just wanted to say how excellent the quartet were. Many thanks for organising for us and please pass on our thanks, again, to the singers. They were fantastic and we got so much great feedback from guests about them. Happy Christmas and I will keep your email on file for next year! Regards, Alison – Church Street Neighbourhood Centre, London"
"Dear Sara, A big, big thank you for the most amazing choir on our wedding day. They were truly fabulous and really made the atmosphere the cosy Christmas, warm feeling we wanted. Please thank them all. Best wishes for 2010, Kate & Steve"
"Dear Sara, First of all thank you for a great evening and please thank Ben, Catherine and Ted as well. You were all outstanding and we love having you here for our annual events. We are so pleased we all had a good time and hope you made it safely back to London. Do have a Wonderful Christmas and New Year break with your family and friends. Once again thank you. Speak soon. Kindest regards, Graham"
"Dear Gina, Thanks so much again for such a brilliant job yesterday, you guys are fab! – my client has said: 'Just to say thanks again for the participants last night, they were all fab. The carollers were brilliant and as it was in a Victorian arcade the acoustics were brilliant! Archie"

Click here for hundreds of additional, genuine reviews and feedback from our performances….