Hartley Voices are the best loved Christmas singers in the UK. Our engaging and interactive performances will warm your heart, and lift your spirits from the moment we begin performing until long after the event. We sing from a huge collection of fun, festive songs, all of the best arrangements of the traditional carols and even some of our own amazingly entertaining a cappella arrangements of the pop festive hits.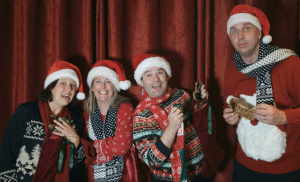 Our fun festive professional Christmas singers offer fabulous feature performances and background music for private parties, corporate events and weddings in London and around the UK, offering fantastic entertainment for every type of Christmas event.
Two of our other most popular formats to choose from are: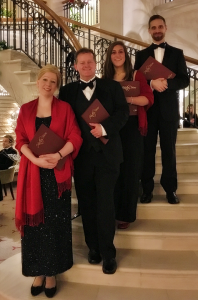 Our fabulous singers don't just come out for Christmas, we are seasoned year round professionals graduated from the top music colleges including the Guildhall, Royal Academy, Royal College of Music, Trinity, and esteemed music conservatories abroad. We just love Christmas too!
While we are happy to perform in the fun festive jumpers and silly hats, that's not all we do! Our trained professionals frequently perform in full evening wear, perfect for your gorgeous black tie events.
We always look forward to the season when we can bring a fresh round of "Joy to the World" and a festive atmosphere "Decking the Halls", and "Wishing you a Merry Christmas!"
We know that no two events are alike and enjoy adapting to fit yours perfectly!
We perform in our gorgeous costumes as Dickensian Carol Singers, in formalwear for your black tie events, smart festive suits and cocktail dresses, as very merry festive carol singers in fun wooly jumpers, smart black overcoats with colourful hats and scarves for outdoor performances or in our striking 'Ice' theme with flowing blue dresses for the ladies and smart and icy festive waistcoats for the men.
It's not just our costume that changes to fit your theme of course, because it's the beautiful singing that we are of course known for. Our wide repertoire spans all of the traditional classic carols that will accentuate your Victorian themed event so well, but we also have a wide and impressive range of fun modern Christmas music so if you would like us to offer only modern festive cheer, we will enjoy doing just that for you.
Audio Samples
Live on Chris Evans Radio 2 Show
We Wish You a Merry Christmas
Hark The Herald Angels Sing
Ding Dong Merrily on High
Rudolph The Red Nose Reindeer
Now is The Perfect Time To Hire A Vocal Quartet For This Year's Event! Here's Why…
We make it easy for our clients to create a light and spirited atmosphere and a memorable occasion that your guests will talk about long after.
The mobility and flexibility of our quartets allows us to greet guests as they enter, roam amongst them with a song while they eat and mingle, or sing by the Christmas tree enchanting guests as they come and go.
Our professional carol singers are some of the most popular and well loved of our genre based in the London area, often travelling to perform throughout the the UK and abroad. We are widely known for providing the best entertainment value and contagious festive energy with our vast repertoire of traditional and non-religious Christmas music. This means that we can tailor our programme seamlessly to your event….
"The carol singers were amazing. They added a real Christmas feel to our party. We were extremely happy with their performance on the evening and will definitely be in touch with any future events that we hold! Kind Regards, Amy – Corporate Party, Knebworth House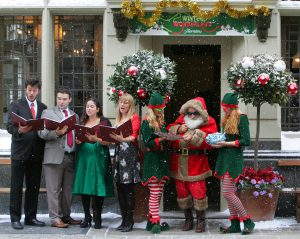 "I just wanted to say how excellent the quartet were. Many thanks for organising for us and please pass on our thanks, again, to the singers. They were fantastic and we got so much great feedback from guests about them. Happy Christmas and I will keep your email on file for next year! Regards, Alison – Church Street Neighbourhood Centre, London"
"Dear Sara, A big, big thank you for the most amazing choir on our wedding day. They were truly fabulous and really made the atmosphere the cosy Christmas, warm feeling we wanted. Please thank them all. Best wishes for 2010, Kate & Steve"
"You were all outstanding and we love having you here for our annual events. We are so pleased we all had a good time and hope you made it safely back to London. Do have a Wonderful Christmas and New Year break with your family and friends. Once again thank you. Speak soon. Kindest regards, Graham"
"Thanks so much again for such a brilliant job yesterday, you guys are fab! – my client has said: 'Just to say thanks again for the participants last night, they were all fab. The carollers were brilliant and as it was in a Victorian arcade the acoustics were brilliant! Archie"

Click here for hundreds of additional, genuine reviews and feedback from our performances….