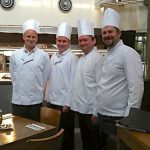 The Barbershop Incognito are a brilliant professional barbershop quartet of male singers perfect for any kind of function on any scale. These upbeat and lively chaps sing quirky modern arrangements as well as the well loved traditional barbershop favourites. One thing that's for sure is that they'll bring energy and fun to your event. If you have a unique request that you would like to hear live, the quartet specialise in writing and performing bespoke arrangements.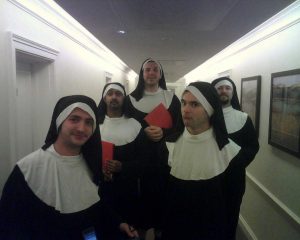 This is a is a group of energetic, spirited and talented singers, musicians and songwriters.  James, the ensemble leader is a well-known and respected face in the music industry. A graduate of the MA Choral Education course at Roehampton University, James is Musical Director for the BBC Radio 3 Choir of the Year 2006, the Chandos Chamber Choir, the Aylesbury Festival Choir, the Fleet Singers and a number of work-place choirs, including staff choirs at Channel 4 TV and FreemantleMedia.
"Thanks for Saturday evening. We thought it was a great show and thoroughly enjoyed it."
Barbershop Incognito perform in all variations of attire to fit in with any sort of theme or event possible. Barbershop Incognito have previously performed as chefs, nuns, waiters, yes… flowers, and many more! They even have their own traditional barbershop quartet outfits complete with boater hats!
"Thank you so much for being a very important part of what was a very special day for both Janine and myself. From both an entertainment and professional point of view you were all exceptional and I know will be a major part of the memory that everybody will have taken from the day. Once again many thanks and I sincerely hope that we will meet again in the future."
Repertoire
Doo-Wop:
Book Of Love – The Monotones
Duke Of Earl – Gene Chandler
Goodnight Sweetheart – Carter & Hudson
Hello Mary Lou – Gene Pitney
In The Still Of The Night (5 singers required) – Boyz II Men
Under The Boardwalk (5 singers required) – the Drifters
My Guy – Smokey Robinson (Ladies voices only)
Mister Sandman – The Chordettes
Silhouettes – The Nylons


Traditional Barbershop:
Aura Lee – George Poulton
Barbershopping Reaches Everywhere – Bud Arberg
I Do Like To Be Beside The Seaside – John A. Glover-Kind
My Evaline – Trad.
My Sweet – Trad.
My Mammy – Al Jolson
Love letters in the sand – Pat Boone
Sleepy Time Gal – Perry Como
Softly as I leave you – Matt Monroe
Me and my shadow – Al Jolson
The Pope – Gustav Stoeckel
A Roving – Yale Glee Club
Tags – selection of short Barbershop tags
Wochenend und Sonnenschein – Comedian Harmonists
Coney Island Baby – The Mainstreeters
Jazz and Caberet:
And When The Leaves – Trad.
Moon River – Henry Mancini
Nat King Cole Medley – Nat King Cole
Alphabet Song – Perry Como
Shoo Fly Pie And Apple Pan Dowdy – Dinah Shore
My Wife's On A Diet – Tobias & Bennett
When I Grow Too Old To Dream – Hammerstein & Romberg
That's Amore – Harry Warren
Dayton Ohio 1903 – Richard Rodney Bennett
Poisoning Pigeons in the park – Tom Lehrer
Crepe Suzette – Kenneth Williams
Java Jive – The Ink Spots
A Nightingale sang in Berkeley Square – Manning Sherwin
My Way – Frank Sinatra
The way you look tonight – Jerome Kern
The Hippopotamus Song – Flanders & Swann
Blue Skies – Cole Porter
The Girl from Ipanema – Antonio Carlos Jobim
Feeling Good – Nina Simone
Misty – Erroll Garner
Spiritual and Gospel:
Steal Away – Trad.
Swing Low Sweet Chariot – Trad.
Classical:
Air on a G String – JS Bach
O Mio Babbino Caro – Puccini
Canon in D – Pachelbel
Musicals:
Any Dream Will Do – Joseph
DoReMi – Sound of Music
I Dreamed A Dream – Les Miserables
Maria – West Side Story
Pure Imagination – Willy Wonka (not got copy yet)
If I were a rich man – Fiddler on the Roof
Tea for Two – No, no, Nanette
Pop and Rock:
Chasing Cars – Snow Patrol
Blower's Daughter – Damien Rice
Don't Look Back In Anger – Oasis
Handbags & Gladrags – Stereophonics
Hold Me Now – Thompson Twins
Imagine – Lennon (5 singers required)
Make You Feel My Love – Adele
Uptown Girl – Billy Joel
This Love – Maroon Five
Twist & Shout – Beatles
Paperback Writer – Beatles
Yesterday – Beatles
When Im Sixty Four – Beatles
You Raise Me Up – Westlife
Run – Snow Patrol
Blue Is The Colour – Beautiful South
Blowin' in the wind – Bob Dylan
God Only Knows – Beach Boys
Patriotic:
God save the queen – GB National Anthem
Land of Hope and Glory – GB Hymn
Britannia Glory Mashup – GB Medley
Star Spangled Banner – USA National Anthem
TV and Film:
Countdown Clock – Countdown
That's What Friends Are For – Jungle Book
Take You Back – Rocky
Two Kinds of Love – Rocky
We Have All The Time In The World – On Her Majesty's Secret Service
Horace The Horse – Burl Ives
Ancient Melodies and Folksong:
Deo Gracias Anglia – Anon.
Grace – Mercer's Guild, London
Il est bel et bon – Passereau
Pastyme with good companye – Anon.
Row Row Row Your Boat – Trad.
Down Over The Hill – Appalachian Mountain Song
Drink To Me Only – Old English Air
Landlord Fill The Flowing Bowl – Trad.
Where The Elm Tree Grows – Trad.
Quick we have but a second – Charles Stanford
Occasions:
Happy Birthday – Anon.
Wedding Bells – George Fornby
Marry You – Bruno Mars