Live Public Performance…
We heartily invite you to contact us to ask if you are interested seeing us live public performance and humbly list a handful of events which we have done recently which were of particular interest…
Recently released recording of the long awaited new production of Omega and Alpha has now been performed for the first time, with our wonderful singer, Gerard, taking up a role in this beautiful piece.
Here are some extracts below, taken from the review given by the Church Times in Somerset:
"A MAJOR new Passion oratorio in any genre is something to celebrate. The nave of Wells Cathedral was packed for Omega and Alpha, a much-heralded new work of almost 90 minutes by Martin Emslie.
Is it a success? There was much for a supportive audience to applaud – not least a shivering performance by the three excellent soloists and chorus alike.
…
I itemise those choirs because – especially when singing alongside the soloists – they performed vividly. This was exciting singing, highly motivated, strong in attack, varied and sensitive in dynamic, and well rehearsed.
…
Frequently, it hits highs: for instance, the intense extended passages (akin to the treatment in Bach's St John Passion) for Pilate, sung by the magnificent bass-baritone Gerard, who was terrific also as Judas (allotted almost as much space as in Elgar's The Apostles) and St Peter.
Much of the music is on a par with musicals: the Holy Week story told through a prism of Les Misérables, say, or Godspell. Bearing this in mind, it works well. There are intermittent banalities early on – the rather vapid music of the opening section (of four), a series of twisting chord-splurging harmonies, adds up to not much – but soon it all picks up. This is true, even given the much-repeated "This is my predicament, Knowing what to do. Where will the future take us, And can I see it through?" – platitudes that even a 14-year-old might find inept.
It held up, and the whole evening came off, because of the soloists – and largely the extraordinary quality and musicality of the young tenor who sang the part of Jesus with such personality, weight, and adeptness that every phrase gained import and intensity. His high notes – to an effortless top B – were wonderful.
…
Ansell took the bull by the horns: he gave his all, and every bit of it counted. Tiresomely, the soloists had microphones: Ansell has no need of that. His voice carries; it is well-supported; pearl after pearl, he has all the gifts of a classical singer. We heard none of the strainings common in the crossover world. He could take on anything: Mendelssohn, Dvořàk, and Vivaldi are all his; and Lloyd Webber, too. But what he captured, and what mattered, above all, was the spirit. The Gospel story, in all its poignancy, beamed through him.
He had a rival. Marta Fontanals-Simmons, the top-notch mezzo-soprano who tackled Emslie's often super recitative and aria work in both mezzo and soprano register, was a delight to hear (again with unnecessary amplification). Often she acts as narrator: another nice original touch in this tangibly expressive oratorio. Her enunciation was stupendous. Her rich tones put me in mind of Sarah Connolly, Janet Baker, and other greats. What a thrill, but not a surprise, to encounter three soloists of this calibre and mettle in this cathedral, whose musical standards are currently second to none.
If I make Omega and Alpha sound a mixed bag, this is because it is. But at such a magnificent performance one forgave almost anything – except some ghastly tuning in the wind and strings (lower, especially) from the modest-sized orchestra in the earlier part of the evening. At those points, omega for them. Alpha for the brass and percussion."
 Events from the past…
A fantastic new oratorio, Omega & Alpha, written by Martin Emslie. It is a powerful re-telling of the Easter Passion story and takes us from the prophecy of the arrival of the Messiah into Jerusalem, to the traumatic events of the crucifixion and subsequest resurrection. The music has been written for soloists, choir and organ or orchestra.
We are proud to say that one of our fantastic singers, Gerard, will be performing in this production. The performance took place in the beautiful setting of Well's Cathedral, Somerset on 13th April.
Tickets are now on sale for the production but will without a doubt sell out fast so don't miss your opportunity to see this wonderful live performance, and have the chance to meet the performers after the show!
Keep up with the Omega News blog at http://martinemslieoratorio.blogspot.co.uk to see how the project is progressing.
The Verdi Requiem
The English Schools' Orchestra returned to The Birmingham Symphony Hall to perform two monumental works in this ideal setting. Fine young orchestral musicians from around the country join the wonderful City of Birmingham Choir and four outstanding soloists for this spectacular event.
Programme
Verdi: Requiem
Respighi: The Pines of Rome
Robert Pepper MBE conductor
Sara Hartley soprano
Lisa Byrnes mezzo-soprano
Octavio dos Santos Neto tenor
Gerard Delrez bass-baritone
Sixteen years on from the very first concert given in London's Barbican Hall, subsequent generations of youthful and talented members of the English Schools' Orchestra have not only consistently maintained the initial high standards achieved by their predecessors, but have even managed to outstrip all expectations and each year shown themselves capable of tackling ever more ambitious musical challenges with hugely successful results.
This year was no exception. Respighi's four-part symphonic poem, The Pines of Rome and the Messa da Requiem by Verdi, represented stern challenges for the 80+ members of the orchestra; challenges they met with immense success, both technically and musically.
The five-day build up to the concert in the magnificent Symphony Hall in Birmingham, was held as usual at The Haberdashers' Boys' School, in Elstree, Hertfordshire, where the splendid facilities for making music are probably second to none and which the orchestra and tutors enjoy year after year. Students attending this year's course came from schools countrywide, but two very special Russian players merited the long-distance prize in travelling from Moscow to join their English counterparts. Such is the English Schools' Orchestra's reputation that HRH Prince Michael of Kent, who has established a charitable foundation in Russia, arranged for two teenaged violinists to join the orchestra, and they were warmly welcomed by all.
Following four days of section rehearsals with distinguished tutors and full rehearsals under the baton of musical director Robert Pepper, the orchestra travelled to Birmingham and gave a memorable concert. The orchestral colours and musical pictures contained in Respighi's Pines of Rome were impressively captured, and at least one member of the appreciative audience was overheard to say that it was a performance that would have graced any concert hall in the country. Following the interval, the orchestra and the superb City of Birmingham Choir performed Verdi's great Requiem Mass.
Again, those present were privileged to hear fine orchestral playing, reaching a standard of professionalism far beyond what might be expected of such youthful players. Together with the sensitive and exciting choral contribution from the Birmingham singers, this great choral masterpiece was played and sung with memorable technical skill and mature musicianship. Players and singers fully deserved the prolonged ovation accorded them. There is no doubt that this year's players in the English Schools' Orchestra set a standard that next year's students will find difficult to better, but bearing in mind that year by year something like 65% of the players return until their teen-age years run out, it would not be at all wise to wager on that. Alan Taylor (Course Director)
Classical Radiance in Song Recording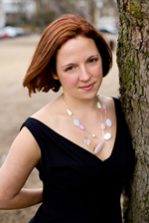 As a professional classical soprano Sara divides her time between performing for events in London and around the UK, directing her music agency and juggling family commitments. Though she spends most weekends captivating the hearts of audiences for their personal and corporate events she rarely finds the time to fulfill goals which derive closer to home.
"A big part of the reason I began singing was to share the beautiful melodies that I love so much with people. To me success is not fame, but rather the ability to inspire people to enjoy music which they hadn't considered before. These days many people rarely consider attending a live classical event, but I find it so rewarding that at the types of events that I often sing for I get to perform for many of these such people and absolutely love the reaction that many of them have to the performance. You can almost see them considering what they might be missing and thinking about seeking out other similar experiences. It is this experience that I want to take this rare opportunity to bring to my friends, family and neighbors whom share other aspects of my life with, but with whom I don't usually get to share this amazing experience."
This is why it is with great joy that Sara has found the time recently to approach St Mary's Church, an acoustically and aesthetically beautiful setting, who have welcomed her request to put together a programme of some of her favourite music to share with us in Welwyn for a Sunday afternoon performance on the 28th of June at 2:30pm.
The programme will be accompanied by Sara's exceptionally talented colleagues, pianist Scilla Stewart, harpist Rebecca Hooper, and local professional violinist and violin teacher Pia Jeppesen.
Sara gave a short 45 minute performance beginning with haunting melodies by Caccini, Handel, Purcell and Grieg many of which you will recognise even without knowing by name, followed by a set of Welsh folk songs, some opera favorites by Puccini and Bizet, and finishing with the laughter of two of Johann Strauss's waltzes.
"I'm very excited to be able to design this programme based on what I love and want to sing for my friends because usually my performance is dictated by the event. It's really liberating to be able to design a performance the other way around."
Sara has been a highly successful performer living among us in Hertfordshire for the last nine years, and thoroughly enjoys each opportunity to sing at each and every of the countless stunning and humble venues alike for the countless events locally and all over the UK. Though you will no doubt detect a subtle American lilt to her spoken voice, as she spent most of her childhood growing up in Seattle, her mother's family has been living in London and Hertfordshire for generations. She earned her Masters Degree in 2001 with Distinction in Vocal Performance from the San Francisco Conservatory of Music, where she studied with the talented mezzo-soprano and vocal department chair Wendy Hillhouse. Her operatic lead roles include that of Gretel in Hansel & Gretel in San Francisco, Susanna in The Marriage of Figaro in Berkeley, Loretta in Gianni Schicchi in Minnesota and Julie in Carousel in St Albans. Some of Sara's many achievements in competition include San Francisco Conservatory of Music Scholarship, Burlingame Music Club Voice Competition First Prize, California Federation of Music Clubs Competition Prize, St. Olaf Orchestra Senior Soloist, and the Winston Cassler Music Scholarship.
Since returning to Hertfordshire in 2002 Sara has been performing professionally with Hartley Voices alongside her wonderful colleagues; singers and musicians taking part in performances for events in the UK and abroad. Sara works with a particular interest in helping recent graduates of the music colleges (the Guild Hall, Royal Academy, Royal College, and Trinity Collage of Music particularly) to function successfully within the tricky world of the modern music industry, performing to the standard that helps to create vibrant returning audiences.
The recital will take place to mark the end of the Welwyn Festival Week, and proceeds from the sale of tickets will be given to support the festival's charities, The Friendship Club, 2nd Welwyn Scouts & The Cat Survival Trust caring for endangered species of cats in captivity.
Tickets for the performance are £8 and can now be purchased at Hill & Co, High Street, Welwyn, by phoning Hartley Voices on 0207 096 1637, or at the door. Advance ticket holders will receive priority seating.