We are very excited to say that along side our other performances we have several fun and engaging programmes that we currently bring into schools and educational facilities throughout the UK. Music education brought to life with the Sound of Music
Enquire now about our new 2020 spring production, a comedy featuring educational themes on the suffragette movement, The Boatswain's Mate! Currently booking – now just one workshop left this term on the 16th March!! (Additional dates available for May – June.) Find out more about this workshop here. Click here for more information.

Our "Play in a Day" style opera and musical theatre school workshops introduce these amazing and beautiful styles of music to children in a way that they can understand and relate to. We begin by blowing the old stereotypes of classic opera and common misunderstanding out of the water and engage the children with plots, stories and facts that spur their imaginations and inspire them to greater aspirations.
Children come away from an OperasCool! workshops having shed the idea that opera is 'scary' or 'boring' and literally leave singing the praises of opera in their own dramatic interpretations.
"What have you done to my son? He's inspired!"
– Parent quote the day after, Codicote Primary School)"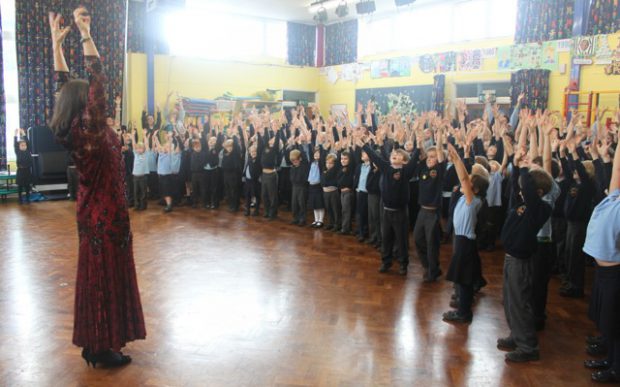 "They all came away trying to sing opera!"
What's more they also inadvertently take with them a number of core curriculum lessons that they didn't realise they were learning! Using scenes from a variety of operas we involve the children in the journey of discovering their stories and the wonderful music. We make this style of music and area of performing arts accessible to all, and fantastic fun.
""The presentation made opera accessible to even the youngest children."
Both bringing live opera directly into the classroom and help young people to get excited about and identify with classical music in a way they never imagined they would…
Just a few of the many core curriculum skills that we help the children develop in all of our workshops are:
Breathing Exercises –Putting a child in control of their body increases their self-awareness, improves their concentration and makes them think clearer. Breathing exercises help put a child into a great mindset to learn the vast knowledge that the Opera'sCool performers have to teach them, and serve to extend into all of their physical, sports or everyday activities.
Voice Projection–is the strength of speaking and singing whereby the voice is used loudly and clearly in a healthy way. A skill we nurture with the children that will serve them well throughout their lives.
Movement and Characterisation– Movement as an actor is vital when creating a character. Not only is the movement of your body important to help establish the credibility of a character, but also movement with purpose and knowledge establish a sense of confidence and self-awareness to the audience. Teaching children how to be the part they're playing in every way helps them build confidence and sends out the positive message that they can be anything they put their mind to. Students are shown the key to effective dramatisation and a wide variety of character exercises are provided to assure compelling and individualistic characters for any play.
Oral Interpretation– After being given an individual character to take upon themselves for the duration, students are involved in many games and tasks before being taught the importance of reading with meaning and how that makes a much more believable character when performing to an audience.
Spatial Awareness– Students find out why spatial awareness is such an important part of getting a show to run smoothly. Helping children know their surroundings and where they are in relation to things around them.
Singing Technique– The children take part in exercises to loosen their vocal folds for singing to prevent straining, as well as to broaden their range. Singing – like laughter, play, sunshine, countryside and exercise – help underpin and maintain our wellbeing and happiness. Singing is therefore fundamentally enriching. Our students go home singing and full of inspiration and enthusiasm.
1 HOUR PROGRAMME FOR SCHOOLS – ADAPTABLE FOR ALL AGE GROUPS
This is a one hour educational programme with audience participation which introduces children to the exciting world of Opera. It is an extremely flexible and interactive workshop which works well for small groups and large, multi-school assemblies alike.


During our one hour workshop, we share a taster of scenes in English from different operas with the children. Using songs and snippets of dialogue teamed with a narrative to carry the children along with the stories, spur their imaginations about the characters and inspire them with the demonstration of highly skilled, trained voices.
Each voice type is represented by the four singers, and each operatic extract carefully chosen to engage the imagination and interest of children of all ages. During the programme we will demonstrate the power and creativity of the human voice, and engage the audience into the drama and characters involved in each operatic extracts with entertaining introductions. Simple props and costume changes enhance the visual effect.
This programme has been successfully presented to infant, junior, intermediate and senior schools.
The cast of Opera's Cool are always delighted to stay and answer any questions from the children and audience at the end of the show.
THE SOUND OF MUSIC WORKSHOP – ADAPTABLE FOR ALL AGE GROUPS
Our Sound of Music workshop is a half or full school day experience which introduces the children to musical theatre and the many creative challenges that are involved in putting together a production. Each child will help to create the show, have a role within the show and the opportunity to perform alongside professional singers.
Throughout the workshop they will take part in different activities to help put together a performance at the end of day. The different activities cover many diverse elements of the required curriculum in a fun and stimulating way to create a unique show. As well as of course singing, acting and staging on the day we will provide templates and instructions in advance so that your students can prepare for the day with fun prop building crafts and creating theme based costume pieces which the children can use on the day and keep as a souvenir of the experience!
The day starts with a short assembly for all of the children involved in that day's activities. This enables us to introduce ourselves and the production to the children, giving them an insight into what the day holds for them, as well as taking part in a vocal and physical warmup. From here, the classes then split to start the days activities. At the end of the school day the children then come together again to perform their production.
The show is also an opportunity for parents and teachers to see what the days hard work has produced while the children are able to watch the performance, seeing where in the show their important part comes into play.
We will provide you with a timetable of events for the day in advance so you and your staff are fully aware of what will be taking place. Along with this, you will receive a detailed list of supplies that will be used throughout the day and lesson plans for some of the lessons. We are happy to answer any questions you may have leading up to our visit – we want you to be as informed and comfortable about the days proceedings as possible.
This workshop works perfectly for around 90 – 120 children in both key stage 1 and 2. If you have a larger school or would like to share the expense with another nearby school, we can offer a two day deal or another arrangement to suit your needs. We will help you to choose the best option to ensure that every child has the chance to take part and be seen in the performance, with the opportunity and space to invite all parents along to see the end result.
THE INTENSIVE CARMEN OPERA EXPERIENCE – ADAPTABLE FOR ALL AGE GROUPS
Our Carmen Intensive is a highly interactive ninety-minute educational program for primary and secondary school children to learn all of the key features of putting on their own opera!
The ninety minutes culminates with a short scene including all of the children taking part as rehearsed, putting all they've learnt to the test. Simple props and costume changes enhance the visual effect.
The Opera'sCool performers being part of this give children an insight to opera and musical theatre. With an intimate performance the children will be engaged and literally leave singing the praises of opera in their own dramatic interpretations.
The cast of Opera'sCool are always delighted to stay and answer any questions from the children at the end of the workshop.
This programme is great for helping classes practise and prepare for any upcoming projects they may be involved in such as a school show or end of year performance.
This intensive workshop option is suitable for a maximum of 35 children.
To find out more, please visit our educational website at www.operascool.org