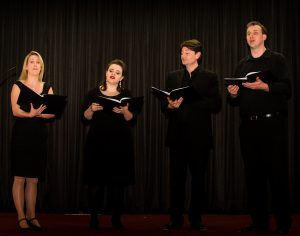 A stunning professional choir is the perfect touch to add style, class, energy and beauty to any important event, be it a wedding ceremony, church or civil service, corporate event or concert.
Hartley Voices Choir is a stylish and energetic professional choir based in London. The choir is made up of talented professional singers with a passion for outstanding singing and creating beautiful music. Our reputation is that of excellence and heartfelt musicianship drawn from a rich history and extensive musical training.  We perform a wide range of repertoire from traditional choral music to new arrangements of popular music.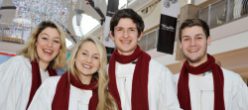 There is something for everyone at each of our choral performances, and the choir will take on any vocal challenge. Our professional choir regularly performs across the United Kingdom and collaborates with choirs of all types from traditional church music to gospel and popular modern styles.
Our professional choir ranges in size typically from 4 singers to 20 for an event.  We can perform a full programme for you or enhance your ceremony with a few performance numbers as well as help your congregation by leading the hymns.  If you would prefer to leave the singing to the professionals, our choir of anything from four to twenty singers with organist or chamber ensemble and can be guaranteed to provide a high quality musical feature.
We are happy to discuss your requests and to give suggestions to fill out your programme. Some examples of our professional choir's extensive repertoire includes but is not limited to….
Top 15 Requests
God Only Knows, Beach Boys
What the world needs now, David/Bacharach
Close to you, David/Bacharach
Kissing You, Des'ree
One day like this, Elbow
May it Be, Enya
All you need is love, Lennon/McCartney
Marry You, Bruno Mars
A whole new world, Menken/Rice
Moon River, Mercer
Nella Fantasia, Morricone
Perfect Day, Reid
Greatest Day, Take That
With or without you, U2
Can't Take My Eyes Off You, Valli
Some More Popular Songs
Make You Feel My Love, Adele
Dream a little dream, Andre/Schwandt
We have all the time in the world, Barry/David
Love letters in the sand, Boone
The Nearness of You, Carmichael
Come On Eileen, Dexy's Midnight Runners
Love is here to stay, Gershwin (I & G)
They can't take that away from me, Gershwin (I & G)
Will you be there, Jackson
Blame it on the boogie, Jackson Five
I'll be there, Jackson Five
Your Song, John/Taupin
That's What Friends Are For, Jungle Book
The Way you Look Tonight, Kern
And I Love Her, Lennon/McCartney
Here, There and Everywhere, Lennon/McCartney
I Will, Lennon/McCartney
This Love, Maroon Five
Songbird, McVie
Crazy little thing called love, Mercury
It's in your eyes, Minogue
I can see clearly now, Nash
Love Me Tender, Presley
We are the Champions, Queen
Walking on sunshine, Rew
My Guy, Robinson
A Nightingale sang in Berkeley Square, Sherwin
Bridge over troubled water, Simon
Feeling Good, Simone
My Way, Sinatra
I Only Have Eyes For You, The Flamingoes
Book Of Love, The Monotones
Happy Together, The Turtles
What a wonderful world, Thiele/Weiss
Hold Me Now, Thompson Twins
That's Amore, Warren
You Raise Me Up, Westlife
Happy, Williams
Lean on me, Withers
When I fall in love, Young/Heyman
Traditional Church Wedding Suggestion:
Jesu, joy of man's desiring, Bach
Ave Maria, Bach/Gounod
Irish Blessing, Chilcott
Love, Chilcott
Panis angelicus, Franck
The Lord is my Shepherd, Goodall
Hallelujah Chorus, Handel
Laudate Dominum, Mozart
Ave Verum, Mozart
God be in my Head, Rutter
The Lord bless you and keep you, Rutter
Ave Maria, Schubert
Beati quorum via, Stanford
Gloria in excelsis Deo, Vivaldi
God be in my head, Walford
Here comes the bride!, Wagner
More Classical Music
My Promise, Allain
Pastyme with good companye, Anon.
Aria (de la suite No.3), Bach
Sure on this shining night, Barber
True love, Campkin
Marriage to my Lady Poverty, Chilcott
The Marriage of True Minds, Clucas
I carry your heart, Corp
Love alters not, Davey
Chanson de matin, Elgar
My Spirit sang all day, Finzi
Ombra Mai Fu (from Xerxes), Handel
Sure on this shining night, Lauridsen
Shall I compare thee, Lindburg
On love, May
Canon in D, Pachelbel
If music be the food of love, Purcell
The Bluebird, Stanford
L'Amour De Moi, Swingle
This Marriage, Whitacre
Folksongs
Scarborough Fair, Trad. English
Drink To Me Only, Trad. Irish
I would be true (O Danny Boy), Trad. Irish
My Lagan Love, Trad. Irish
She Moved Through the Fair, Trad. English
Pokare Ana, Trad. Maori
My Love is Like a Red, Red Rose, Trad. Scottish

Demo Samples

Eight Voice Choir
The Blower's Daughter, Rice

Twelve Voice Choir with Soloist
Laudate Dominum, Mozart

Four Voice Choir
This Marriage, Whitacre

Six Voice Choir
The Lord is My Shepherd, Goodal

Seven Voice Choir
Chanson de Matin, Elgar

Nine Voice Choir
The Lord's Prayer, Petter
I've Got You Under My Skin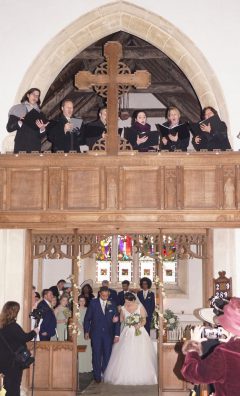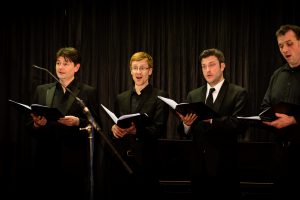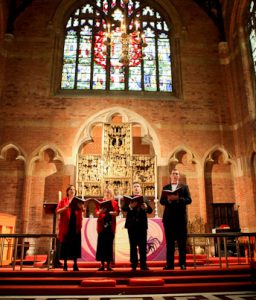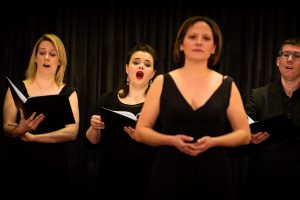 Der Mensch Lebt Und Bestehet