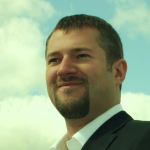 James is one of the UK's most distinguished and respected young choral directors, in demand for his work as conductor, choir trainer, choral education practitioner, arranger and adjudicator and another hugely valuable member of the Hartley Voices team.
Formerly the chief choral advisor for the BBC's sheet music archives, James has delivered projects for the BBC Singers Education Department as workshop leader and mentor, as well as regularly conducting and preparing choirs for broadcasts on TV and Radio.
A graduate of the Birmingham Conservatoire and Roehampton University, where he gained his MA in Choral Education, James studied conducting with the Association of British Choral Directors and under many eminent choral figures, including; Mike Brewer, Peter Broadbent, Therees Hibbard, Paul Spicer, Ralph Allwood and Bob Chilcott. He has since returned to teach conducting for both the Association of British Choral Directors and for Roehampton University.
At the heart of his busy schedule James is Musical Director for multiple choirs across the country. He is also a choir trainer for the Royal College of Music Junior Department, a Guest Conductor for the National Youth Choirs of Great Britain, and a tutor for the Cranleigh Choral Week, the Ingenium Academy and the Sherborne Summer School of Music.
James's Most Memorable Gig…
"Our groups are often asked to sing in costume for Hartley Voices fantastic bespoke performances, which can be anything from barbershop style waistcoats and Dickensian carollers dress to modern day business suits or singing chefs. One client took this a stage further for a pitch to a well known yoghurt brand, and decided to bring their office alive to surprise their guests. During the pitch meeting the entire office was re-decorated, carpeted with grass and filled with various characters in costume. I'll never forget singing "Zip-a-dee-doo-dah" dressed as a sunflower, and the joy and surprise on the guests faces as they realised that during their meeting all of the furnishings had come to life just outside the door!"
For more information about our traditional choir you can find them here.