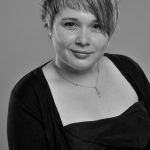 Hilary is another of our talented choral ensemble leaders. She gained a Distinction for an MMus in Choral Conducting at the Royal Academy of Music with Patrick Russill, where as part of her course she was privileged to work with professional choirs including the BBC Singers and Cardinall's Musick.
She also gained a Distinction for her MA in Vocal Studies at the University of York in 2005, and undertook an Advanced Postgraduate Diploma in performance at Trinity College of Music in 2010. She now returns to the Royal Academy as the Meaker Fellow 2012-13 and is a guest conductor with BBC Radio 4's BBC Daily Service Singers.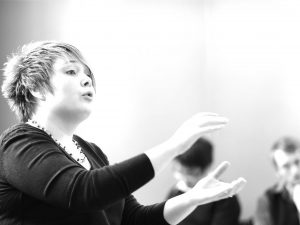 In 2008, Hilary became Composer in Residence for the Ebor Singers, having won their inaugural competition. Her music has been performed around Europe and in the US, and on various radio stations, by professional and amateur ensembles alike, including: BBC Singers; Polish National Chamber Choir; Vilnius Municipal Choir; The Choir of Trinity College,Cambridge. She was the winner of the Shipley Arts Festival Composer Award 2009, the Leeds Philosophical and Literary Society Choral Composition Prize 2009, the Philip Bates Prize for Young Composers in 2004, and in 2006 was a finalist in the National Youth Choir Composition Competition.
She was awarded second place in the Musica Sacra International Competition for Composers 2010, which resulted in performances and broadcasts of her work in Poland and Lithuania by professional ensembles. Selected works are published by Shorter House and LMG Publications, she was commissioned by Choir and Organ Magazine, and another choral work was published by Organists Review. As a singer, Hilary performs with a number of ensembles, and undertook the mentor scheme with The Sixteen; she was also a choral scholar at St Martin in the Fields, and sings at a number of London churches.
For more information about our choir you can find them here.