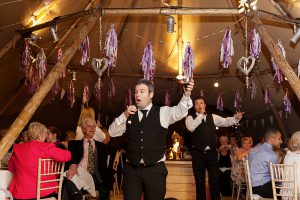 Singing Waiters London
Our AKA Singing Waiters are based in London provide unique live singing entertainment for your event combining musical theatre & comedy
Singing Waiters can transform your function into an extraordinary entertaining event. Our London based singing waiters have received universal acclaim for their performances. Singing Waiters swap roles easily from singing to waiting at table while singing in harmony. We can provide Singing Waiters in London with live musical accompaniment or with recorded backing tracks. AKA Singing Waiters London act performs our own brand of musical theatre using well known opera and theatre tracks. Our London Singing Waiters are very flexible and are able to provide polished musical entertainment in any function venue. Our Singing Waiters are able to perform in many venue without any additional musical accompaniment which makes our live musical theatre very cost effective. We can provide Singing Waiters for larger functions with the support of microphones and additional amplification is available for venues hosting larger audiences.
Our considerable expertise in providing live musical entertainment for corporate events allows our Singing Waiters to provide a unique experience which can be tailored to many themes. Our Singing Waiters can perform musical theatre in costume for larger events as well as the smaller private gatherings and have performed our AKA Singing Waiters London act has performed all over the world in many different surroundings.
Singing Waiters Offer Unique Musical Entertainment
When you book our Singing Waiters for your event your guests will not be aware that the waiting staff are in fact highly trained musicians that will provide the ultimate musical entertainment which can be tailored specifically to your event. Your guests will find our Singing Waiters fun and the appeal of this musical theatre has a very broad appeal for both corporate and private events. Do not imagine that 'opera' is in any way dull! Our Singing Waiters are able to turn the most serious opera into a musical theatre of fun and folly leaving your guests cheering for more as you can see what our clients say about our singing waiters.
If you have never experienced the unique musical entertainment of "Singing Waiters" you will be very pleasantly surprised. Our London base AKA Singing Waiters will provide you and your guests an unforgettable live musical performance which will enhance any private or corporate event.
Listen to a sample of our Singing Waiters or contact us to discuss your requirements
Singers for Hire Classical Singers For Hire Live Musicians For Hire Barbershop Quartet Music Christmas Carol Singers Singing Waiters London