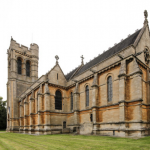 We were honoured to be asked to sing for Irene's funeral service on the 17th of May 2017. Sara sang one of Irene's favourite arias, 'O mio babbino caro' and our 12 voice funeral choir performed a gorgeous selection of cappella music poignant to the celebration of her life.
Hymns were 'O Lord, my God', 'Make me a channel of your peace' and 'Jerusalem', and the choir performed 'Rejoice in the Lord, alway', 'Thou knowest, Lord, the secrets of our hearts' Purcell, and 'Wherefore, O Father' by Dubois/Vaughan Williams (Christe Fons Jugis).
Hi Sara
Just a note to express my deep thanks to you and your colleagues for joining us at Irene's funeral yesterday. Your music-making was magnificent and contributed so positively and poignantly to the atmosphere. I have had so much positive feedback about you. Expect more bookings …  I'm sorry I was tied up with mourners and unable to say this in person. 
I hope we get to work together again.
Yours,
Keith