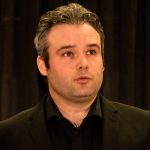 Russell, tenor soloist, has been involved in the arts all his life, stating at the tender age of eight in a school production of Yo-ho-ho. He earned his BMus and MMus at the prestigious Guildhall School of Music and Drama where he studied voice on an unconditional place under the tutelage of tenor soloist Mr Ian Kennedy.
"Dear Sara, Just to say how very pleased we were with Russell today! He did a brilliant job, everyone said how good he was. His personality just added to his wonderful singing. It was a highlight of the day. A huge thank you!" – Maureen (Operatic Tenor Soloist), April 2012
After leaving college Russell has made his mark as a freelance tenor for hire up and down the country and on the continent and is in great demand. Opera tenor soloist credits include Tamino (The Magic Flute), Title role in Albert Herring, Pedrillo (The Abduction from the Seraglio), Don Basillio (The Marriage of Figaro), Don Jose (Carmen), Count Almaviva (The Barber of Seville) Gaston (La Traviata) and the second brother in the world premiere of Laurence Roman's Isabella and the Pot of Basil at Covent Garden and Buxton. Which in turn was recorded under the LR record label. Choral works include Handel's Messiah, Haydn's Creation, Nelson Mass & The Seasons, Charpentier's Messe De Minuit & Te Deum, Gounod's Messe Solennelle,Haazen's Missa Luba, Mozart's Requiem, Vesperae Solennes & Coronation Mass, Rossini's Petite Messe, Stainer's Crucifixion,Beethoven's Choral Symphony, Britten's St Nicholas, Mendelssohn's Elijah Orff's Carmina Burana and numerous Bach cantatas and passions singing the role of the Evangelist.
"A short note of sincere thanks to you for organising Russell to sing at my Mum's 90th celebration on Saturday – he was simply fantastic. All my family enjoyed his performance – a true professional and a big talent! Best wishes" – Trevor (Tenor Performance, 90th Birthday Celebration, Birmingham)
Demo Samples
Nessun Dorma

- Russell, tenor soloist
Russell has a very keen interest in the works of Gilbert and Sullivan, going so far as to write his Master's thesis on their life and music. He has performed many of the principal tenor soloist roles across the Savoy opera range including The Defendant, Marco, Frederic, Hilarion, Ralph, Duke, Captain Fitzbattleaxe, Richard Dauntless, Earl Tolloller, Duke, Alexis, Nanki-Poo and Box.
"Hi Sara, I just wanted to drop you a line to thank you for your help with arranging the contract for Russell to sing with us in 'The Sorcerer'. The show was a great success and we were very pleased with Russell's performance. The leading tenor in G&S can sometimes be a rather 'cardboard cutout' stereotype, but, luckily our director, Alistair Donkin, wanted him played as an 'upper class twit of the year'…and Russell rose to the challenge!! He was a pleasure to work with, and added a great deal to our show. Thank you again" – Alan (Tenor Performance Contract, Gilbert & Sullivan Opera, Courtyard Theatre, Hereford)
His recital work is also recognised in other fields of English music, most recently song settings of the poetry of Housman in "The Blue Remembered Hills" for the Worcester festival. Earlier this year Russell was very privileged to work with the Elgar society of Bristol to perform rare and previously unheard songs by the composer. Russell was also part of the three choirs festival 2016, singing the testing roasted swan in Carmina Burana.
"Thank you again for helping with the arrangements to secure the services of Russell for our recent production of 'The Gondoliers' at the Courtyard in Hereford. Once again, we found him a consummate professional to work with. He integrated well with the group and his interest in and enthusiasm for G & S shone through. His performance of 'Take a Pair of Sparkling Eyes' drew rapturous applause every night, and his contribution to this 'team show' helped to make it widely regarded as the best we have done to date. I look forward to working with him again in the future."
Russell is also a fellow of the London College of Music (FLCM) and has started training to become an examiner for the board. Russell has been a warmly appreciated member of Hartley Voices for over 10 years now, Christmas carolling, leading our barbershop quartets, as a tenor for hire singing waiter in disguise and putting his own twist to the Major General!
"I just wanted to let you know that Russell was a huge success on Sunday! Our friends have since told us they have not stopped talking about the evening to other people. Russell threw himself perfectly into the role of waiter and we managed to keep everything secret until the very last minute, then our friends were just so surprised when he started to sing. He performed our requested songs brilliantly – and entertained us really well. Thank you both so much again for making our dinner party so memorable. I would have no hesitation in recommending Russell to anyone else considering a tenor for hire!"– Wishing you both the very best, Judy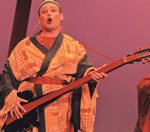 "Just a quick note to thank you for your help with arranging for Russell to work with us again. Once again, he did a tremendous job for us as Prince Hilarion in our production of Princess Ida. The production drew even more compliments than usual and, as I said to him, it's so refreshing to find a tenor with a wonderful voice and… a sense of humour!" – Alan (Hereford Gilbert and Sullivan Operatic Society) March 2014