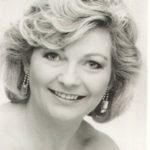 Glenys toured with the D'Oyly Carte Opera Company, and then appeared in several West End shows. She sings in concerts and music festivals in the UK and abroad and regularly works with the Ambrosian Singers.
A member of the Royal Opera, Covent Garden her recent roles include Chief Hen (Cunning Little Vixen), Lady-in-waiting (Les Huguenots), Newspaper Seller (Death in Venice), Modestina (Il Viaggio a Reims), Milliner (Der Rosenkavalier), Page (Lohengrin), Bridesmaid (Marriage of Figaro), Apparition (Macbeth), Olga (The Merry Widow) and Ida (Die Fledermaus). This latter production included the televised farewell performance of Dame Joan Sutherland, in the company of Marilyn Horne and Pavarotti. She is involved with the ROH Education Department in workshop performances in schools.
She has appeared at Chichester and Wexford festivals. For BBC Radio Glenys has played a solo part in the majority of the broadcast series of Gilbert and Sullivan operettas, conducted by Sir Charles Mackerras. Other radio programmes have included Songs from the Shows and Friday Night is Music Night.
Glenys has also appeared as guest soloist in several concerts with the celebrated Black Dyke Mills Brass Band. Recently, Glenys joined leading trumpet virtuoso James Watson and Jennifer Partridge, one of Britain's foremost piano accompanists, to form a new ensemble called "Vox Ottone". Their first CD, entitled "Trumpet and Soprano in Duet" has been released on the ASV label. In collaboration with a Royal Opera colleague, mezzo-soprano Andrea Hazell, Glenys and Jennifer have recorded a second CD, of Victorian ballads and duets, entitled "On Wings of Song".