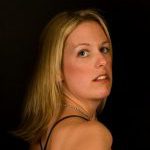 Catherine is an incredibly versatile soprano singer for hire who flits from opera to musical theatre and jazz with ease. She completed her studies at Guildhall School of Music and Drama, and graduated with her BAMus Hons from the University of Nottingham in 2003.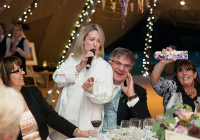 Her performances include Cinderella in Steven Sondheim's Into the Woods, alto solos in Bach's Magnificat in D major and Schubert's Magnificat in C  major with the East of England Singers and the New Classical Players at Beeston Parish Church in Nottingham. She's performed in ensemble with the New London Chamber Choir, the College Chamber Choir, Girl's Choir, and John Leggott Mixed Choir whilst at John Leggott College in Scunthorpe.
Catherine is active as a soprano singer for hire, both as a classical singer and in musical theatre. She has performed on the Palladium stage; at The Royal Albert Hall; The Palace Theatre and Westminster Abbey. She entertains regularly at corporate events and social functions, as a soloist and as a member of two professional quartets.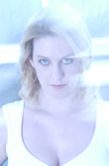 "The whole day was fantastic and the drinks reception was brought alive by Catherine and Andy's wonderful music! Catherine was very accommodating with the repertoire of songs that we wanted and sang them beautifully. It made such a difference to have someone who was not only organised and professional but also sympathetic to the importance of the event for Lucy and I. We would not hesitate to recommend Hartley Voices and Catherine Fish to anyone looking for wonderful performers for an event. Thanks again, Kind regards, Will"
Catherine's voice is often commented on for its ability to seamlessly adjust between classical and popular styles. Therefore, as a soprano singer for hire she is the ideal performer to match your specific event. Her voice would suit any religious or civil ceremony, reception, corporate event/society or recital using her varied and adaptable repertoire.  Her rich soprano tones, class and experience, added to their imaginative arrangements and distinctive sound create the perfect ambience for any event.
"Cath, I just wanted to thank you so much again for your singing at our wedding. I am SO delighted that I found you and decided to ask you to sing – I can't bear to think that it was all done at the last minute and that we might not have had you! The ambience you created was unforgettable, really. You struck exactly the right note. Some of the most gratifying comments were from of the "tougher" contingent of our guests – namely some of the older men from Scarborough – who are usually very "matter of fact" about things. They all said they had lumps in their throats and were barely keeping it together!! You added to my personal memories of the day so much. I loved your choice of Casta Diva to walk into – it really gave grand status to the occasion and made me feel elegant and beautiful! You turned the (civil) ceremony from something I felt was going to be an anti-climax into the highlight of my day – which if I think about it, is really how it ought to be. Many thanks again, Sophie"