Born in Germany, Amanda, soprano soloist, studied at the Royal Academy of Music and the National Opera Studio. She holds a BMus with first class honours from The University Of Melbourne, Australia. Her major awards include winner of the Australian National Operatic Aria Competition, recipient of the Joan Sutherland Society of Sydney Vocal Scholarship, and winner of the Richard Lewis/Jean Shanks Award from the Royal Academy of Music. She has been a finalist and prize winner in the Royal Overseas League Arts Competition.
Amanda was a member of the Glyndebourne Festival Opera Chorus, and made her professional debut as featured soprano soloist for Essential Scottish Opera. She returned to Scottish Opera as Clorinda in La Cenerentola at the Edinburgh Festival. She then went on to perform the role of Johanna across Italy for the Italian premier of Sweeney Todd, a production of the Teatro Comunale di Bologna with performances in Modena, Lugo, Piancenza and Bologna.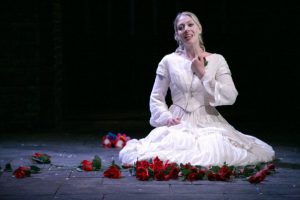 Amanda performs regularly as a soprano soloist for high profile corporate and charity events across the UK, Europe and the Middle East, and has performed as a soloist for the Duke of Edinburgh – an event in aid of SSAFA Forces Help, the President of Singapore at the IoD, and has been guest soloist for high profile charity events including the Poppy Ball and Parkinsons Trust. She recently co-starred on BBC's hit production 'Episodes' performing an aria from Mozart's Le Nozze di Figaro.