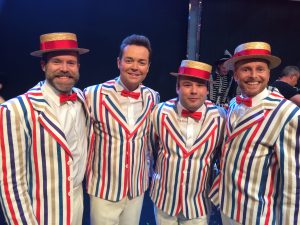 The AKA Barbershop Quartet are highly trained and experienced young professional singers with a youthful, cutting edge. They've come together from the top London colleges, the Guildhall School of Music and Drama and the Royal Academy of Music and offer entertainment on a large or intimate scale, a small garden party or large function room and suitable for any occasion from corporate event to wedding. The quartet sings traditional barbershop favourites as well as modern arrangements. If you have a request that you would like to hear live, the quartet's own arranger can provide bespoke arrangements of your favourite songs.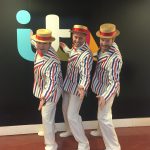 "Well – you were right – the boys did a great job. Our team was exceptionally happy and impressed with their efforts. Warner Bros has now in fact been passed and recommended the song to Tim Burton, the movie director… so if nothing else, the boys can at least feel pleased that their wonderful tones will be heard by a Hollywood director. The boys did a fantastic job and we have certainly offered a lead idea. Thank you very much for your help in organising this."
Audio Samples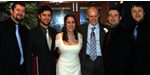 Contemporaries of G4, our boys are as good as it gets in barbershop and four part vocal harmony. As professional singers they not only understand the barbershop style but also create stunning vocal harmonies to fill a diverse range of requests from doo wop to classical.
"Many thanks to you and the others for singing at our wedding on December 27th at South Farm. It was great to be sung out of the ceremony with Goodnight Sweetheart. Your presence helped to create a lovely atmosphere at the drinks reception. You sounded great…"
AKA Barbershop has performed on television for the Paul O'Grady Show, in recording for Warner Brothers and Cineworld and in venues from Claridges, Porchester Hall, and many more.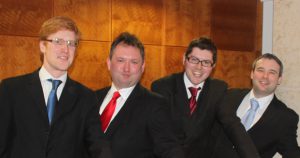 "I just wanted to drop you an email to say how fantastic the guys from the barbershop were on Monday. They sounded absolutely fantastic and helped us to get a number of the broadcast media interested while were stood outside the England cricket team's hotel, even being filmed for BBC News 24 and ITN! They were enthusiastic about getting involved as much as possible in what we were doing and even got stuck in to speaking to the public and posing for some great pictures with the photographer. Many thanks!"
Sample repertoire list
The Pope
Down over the hill
Keep in the middle of the road
Moon river
Book of love
When I'm sixty four
Yesterday
Mister Sandman
Steal away
Uptown girl
We meet again tonight
Landlord fill the flowing bowl
My comrades
De animals are coming
My Evaline
In The Still Of The Night
We were gathering up the roses
Silhouettes
Under the board walk
Swing low sweet chariot
Stand by me
When she loved me
Do you hear the people sing
You'll never walk alone
Honey
Wake up little Susie
Seventy six trombones
Bring him home
Star wars (JW is the man!)
Life could be a dream
That ever I saw
Good Night Sweetheart