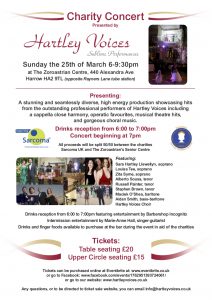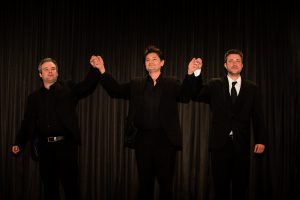 For one night only on the 25th of March 2018 the historic and iconic Zoroastrian Centre in Rayners Lane, North Harrow, was transformed for a breathtaking evening of music and song, with 20 of London's much loved professional singers from Hartley Voices across the stage and musical spectrum performing, for free, in memory of William Petter, a talented tenor and musician whom at the beginning of his career sadly died from sarcoma, a relatively uncommon form of cancer in 2016, aged 34. William started composing in 2013 shortly after being diagnosed with cancer and was survived by his wife and two year old daughter.  Pieces of his music will be performed as part of the evening's concert. You can find more details about William and his music here: http://www.williampetter.org/biography.html
We're happy to announce Hartley Voices two official charities of 2018 are Sarcoma UK and The Zoroastrians Senior Centre!  
We're pleased to announce that we raised £2000 for the charities in aid of Sarcoma UK and The Zoroastrains Senior Centre at our concert in March!
"We are passionate about making this concert a success for so many reasons.  We dearly want to honour William's memory and raise much needed funding for the charity that helped our friend during his fight against sarcoma, and to help the charity help others in his position improve their quality of life and odds in beating this disease.  William was a wonderful soul, after 7 years of performing with our ensemble we will never forget his sense of fun and intoxicating passion for the music.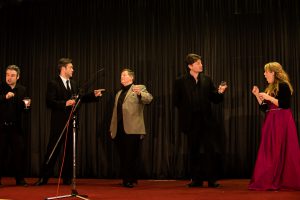 We are so excited to have had the chance to bring this unique show stopping concert to life in such an iconic venue!  It is so rare that such a large number of our professional performers manage to come together in one evening in order to give a phenomenal performance of breathtaking operatic favourites and musical theatre hits that we have managed to masterfully intertwine together into a seamless programme with William's stunning choral music and other choral favourites.  
From the drinks reception at the start of the evening featuring a performance by Barbershop Incognito greeting guests in the beautiful art-deco lobby as they arrive to the encore of Freddie Mercury's classic crossover hit 'Barcelona' the evening was a fantastic success.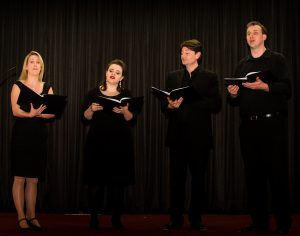 As an extra layer to build to the inspiring evening, we were able to bring the iconic building that is The Zoroastrian Centre back as a functioning theatre.  This stunning grade II+ listed building that stands central to the community in Harrow was a fantastic backdrop to the event, and the Zoroastrians were so warm and welcoming to the performance from conception to completion.  They were the perfect hosts in the perfect venue.  It is the first time they have ever opened their wonderful venue up to the public for an event and we do hope it will be the beginning of a wonderful collaboration. 
All of our performers are professional, however for this rare occasion donating their time and talents 100% to this event in support of the charities.  Every penny of profit was split 50/50 between Sarcoma UK and the Zoroastrian's Senior Centre project.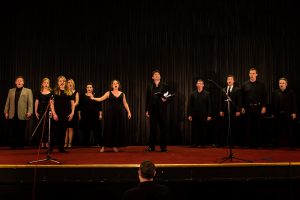 About the performers… Hartley Voices is a collective of tremendously entertaining, active professional London based opera, musical theatre and choral singers, soloists and ensemble performers, who perform in a striking variety of formats.  Performing together successfully for over a decade throughout the UK and abroad, though also regularly audition young talented singers, many fresh from the Guildhall, Royal College of Music, Royal Academy and Trinity to keep performances fresh and youthful, many of the Hartley Voices currently perform regularly with the Royal Opera House, English National Opera, The Welsh National Opera, Opera Holland Park, Grange Park Opera and have performed for Glyndebourne, Garsington and many other popular companies in the UK and abroad.  Our musical theatre singers have featured in many West End, Edinburgh and other productions and our choral singers have performed with ensembles in a fantastic range of high profile and personal events from the most recent Royal wedding, for the BBC and countless other professional operatic, musical theatre and choral engagements.
The evening was in support of Sarcoma UK, the national charity for all types of sarcoma, and the Zoroastrian Senior Centre project in Harrow. For more information about Sarcoma UK, visit www.sarcoma.org.uk
Here are some very interesting details about this iconic venue:
http://harrowonline.org/2016/10/05/the-history-of-the-zoroastrian-centre/
Charities We've Supported Previously…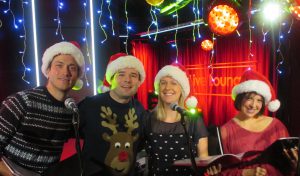 Hartley Voices two official charities of 2017 were WaterAid and Smile Train UK!  To date we have donated £320 to WaterAid and £1025 to Smile Train UK. If you would like to help us keep giving to help change lives with these amazing charities please click on their icons below to give directly: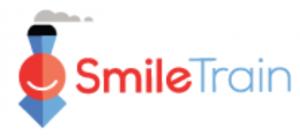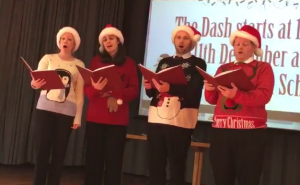 Hartley Voices are proud to have supported St Luke's Hospice as our charity performances for 2016! We had a great time performing for their annual Santa Dash on Sunday 11th December. It was great to see all of the dashers support the charity at Nowerhill High School, George V Avenue, Pinner.  We enjoyed doing our bit with charity performances to spread the festive spirit and get everyone going during registration and then welcome the Dashers back as they returned at 12:30pm!  Click the icon below to help us keep giving to this charity that is so essential to so many people: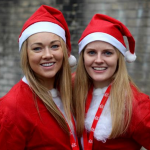 Raising Funds
The Santa Dash is a sponsored event, to raise money for patient care at St Luke's Hospice. We ask all our participants to aim to raise as much money as possible so that we can continue to help people in the local community with terminal illnesses.  Each participant who raised just £50 helped to enable a patient to access high quality hospice care in their familiar surroundings of his or her own home, by also receiving home visits from one of our doctors, nurses or social workers.  Well done to all for your amazing help to this worthy cause!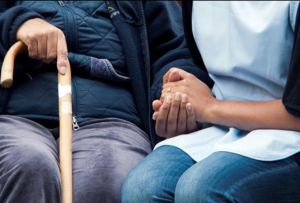 The services St Luke's provides are free and each year thousands of local people support the hospice by donating, participating in events, playing the hospice lottery, shopping, and volunteering in the organisations charity shops. St Luke's hospice relies on over 70% of their funding coming from donations so we're doing our best to spread the word and chip in with this year's campaign!