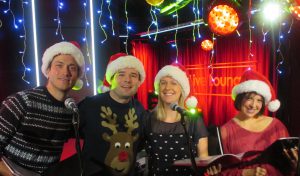 We are proud to announce that Hartley Voices have chosen to sponsor and support St Luke's Hospice as our charity for 2016!
We had a great time performing for their annual Santa Dash on Sunday 11th December. It was great to see all of the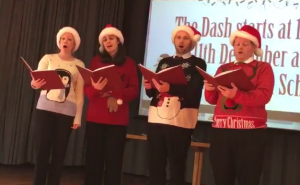 dashers support the charity at Nowerhill High School, George V Avenue, Pinner.  We enjoyed doing our bit to spread the festive spirit and get everyone going during registration and then welcome the Dashers back as they returned at 12:30pm!

To help us help them, instant donations to St Luke's hospice can be made via their giving page.
Raising Funds
The Santa Dash is a sponsored event, to raise money for patient care at St Luke's Hospice. We ask all our participants to aim to raise as much money as possible so that we can continue to help people in the local community with terminal illnesses.  Each participant who raised just £50 helped to enable a patient to access high quality hospice care in their familiar surroundings of his or her own home, by also receiving home visits from one of our doctors, nurses or social workers.  Well done to all for your amazing help to this worthy cause!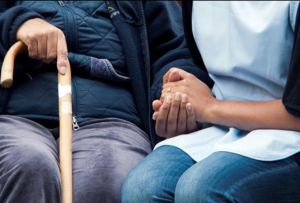 St Luke's Hospice cares for terminally ill patients in Harrow and Brent and provides support to their families and carers. They go the extra mile to provide outstanding care in their patients own choice of facilities. The hospice also works in partnership with, and provides education and support to various healthcare professionals to ensure the highest level of care.
The services St Luke's provides are free and each year thousands of local people support the hospice by donating, participating in events, playing the hospice lottery, shopping, and volunteering in the organisations charity shops. St Luke's hospice relies on over 70% of their funding coming from donations so we're doing our best to spread the word and chip in with this year's campaign!