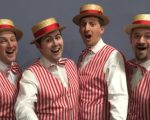 Barbershop Quartet Music
Hartley Voices can hire some great vocalists for Barbershop Quartet music that will add a new dimension to your musical entertainment for your corporate event or function.
Barbershop Quartets
So what is Barbershop quartet music? Barbershop is unaccompanied vocal musical entertainment by a male quartet with a lead vocalist, tenor, bass and baritone chorus. Most Barbershop string quartets sing songs and melodies that are easy to understand. Barbershop quartet music is different from other musical styles and performances and requires a high degree of vocal skill. Barbershop quartet music requires that all vocalists sing in harmony with all the vocalists in the ensemble. Barbershop quartet music makes use of musical and visual techniques to produce a song and offers satisfying musical entertainment for any event or function. The vocals in Barbershop quartet music are not the same as the vocal parts in classical music ensembles and can be sung by men and women quartets.
Barbershop Quartet Music for Event Entertainment
We have some fabulous Barbershop quartet music singers available for hire for event entertainment. The Works (winners of a gold medal from the British Association of Barbershop Singers have been providing musical entertainment for years.
Voice Male are experienced singers of Barbershop quartet music and these singers have been providing musical entertainment in the UK and abroad for over 2 years. They have sung Barbershop quartet music everywhere from clubs to concert halls and have performed on TV and radio. Their unique style of Barbershop quartet music will bring a unique musical entertainment to your event.

Prime Time focuses on A cappella. This male vocal ensemble was formed in 2000 from a leading Barbershop quartet in the UK and went on to become the British Men's Quartet Champions. If you have not experience the sound of Barbershop quartet music for event entertainment, this vocalist ensemble will be an event to remember.
Whatever the musical entertainment you want for your event or function, we will be able to supply a Barbershop quartet music ensemble to suit your needs and budget. Whether it is wedding ceremony music, corporate event entertainment, or Christmas party entertainment, we have musicians and ensembles for hire which will provide a live musical experience with the appropriate vocalists for your occasion.
Singers for Hire Classical Singers For Hire Opera Singers For Hire Barbershop Quartet Music Christmas Carol Singers Singing Waiters London